Festival commissions
One of the Festival's most distinctive features is its long, celebrated history of bringing new music to life through its championing of living composers—from the most important and influential to the most intriguing up-and-comers.
Since 1980, when the Festival presented its first commissioned work—Pulitzer Prize winner Ned Rorem's The Santa Fe Songs, scored for baritone, violin, viola, cello, and piano and featuring settings of 12 poems by Santa Fe poet Witter Bynner—the Festival has presented at least one commissioned work almost every year.
By the end of its 50th season in 2023, the Festival will have presented the world, US, or New Mexico premieres of 115 commissioned works.
1980-1989 Commissions
1980
Ned Rorem, The Santa Fe Songs: 12 Poems of Witter Bynner for Baritone, Violin, Viola, Cello, and Piano (Festival Commission; World Premiere)
1981
John Harbison, Piano Quintet (Festival Commission; World Premiere)
1982
Ned Rorem, Winter Pages (Festival Co- Commission; New Mexico Premiere)
Yehudi Wyner, On This Most Voluptuous Night: Five Songs for Soprano and Chamber Ensemble on texts by William Carlos Williams (Festival Commission; World Premiere)
1983
Leon Kirchner, The Twilight Stood (Festival Co-Commission; New Mexico Premiere)
1984
Ivan Tcherepnin, Explorations (Festival Commission; World Premiere)
1985
Ned Rorem, Scenes from Childhood for Oboe, French Horn, String Quartet, and Piano (Festival Commission; World Premiere)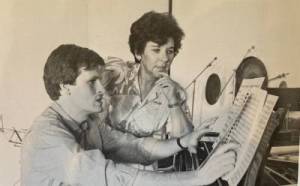 Stephen Paulus rehearses Letters from Colette with soprano Evelyn Lear
1986
Stephen Paulus, Letters from Colette for Soprano, String Quartet, Piano, and Percussion (Festival Commission; World Premiere)
1987
Tobias Picker, New Memories (Festival Commission; World Premiere)
1988
Morton Subotnick, And the butterflies begin to sing (Festival Commission; World Premiere)
1989
Bruce Adolphe, Sharéhi (Dancing Stories) (Festival Commission; World Premiere)
Edgar Meyer, Quartet (Festival Commission; World Premiere)
1990-1999 Commissions
1990
Edgar Meyer, Quintet (Festival Co-Commission; World Premiere)
Mark O'Connor, Quartet for Violin, Viola, Cello, and Double Bass (Festival Commission; World Premiere)
Ned Rorem, The Auden Poems (Festival Co-Commission; World Premiere)
Ellen Taaffe Zwilich, Quintet for Clarinet and String Quartet (Festival Co- Commission; New Mexico Premiere)

Composer-in-Residence John Harbison rehearses his Festival commission, Between Two Worlds
1991
John Harbison, Between Two Worlds (Festival Co-Commission; New Mexico Premiere)
Vassily Lobanov, Quintet for Piano and Strings (Festival Co-Commission; World Premiere)
1992
Jacob Druckman, Come Round (Festival Co-Commission; World Premiere)
1993
Charles Wuorinen, A Winter's Tale (Festival Co-Commission; New Mexico Premiere)
1994
Richard Danielpour, Sonnets to Orpheus, Book II for Baritone and Chamber Ensemble (Festival Commission; World Premiere)
1995
Tomiko Kohjiba, The Transmigration of the Soul (Festival Commission; World Premiere)
1996
Lee Hoiby, Rain Forest (Festival Commission; World Premiere)
1997
Feliu Gasull, Contra-xions (Festival Commission; World Premiere)
Bright Sheng, The Silver River (Festival Co-Commission; World Premiere)
1999
Mario Lavista, String Quartet No. 6 (Festival Commission; World Premiere)
2000-2009 Commissions
2000
Augusta Read Thomas, Invocations (Festival Commission; World Premiere)
2001
Peter Lieberson, Rilke Songs (Festival Commission; World Premiere)
Marc Neikrug, Petrus (Festival Co-Commission; US Premiere)
Per Nørgård, Into the Source: Quartet No. 9 for Two Violins, Viola, and Cello (Festival Commission; World Premiere)
2002
Annie Gosfield, Lightheaded and Heavyhearted (Festival Commission; World Premiere)
Dave Grusin, Three Latin American Dances for Violin, Cello, and Piano (Festival Commission; World Premiere)
John Harbison, Quartet No. 4 for Two Violins, Viola, and Cello (Festival Co-Commission; World Premiere)
2003
Morton Subotnick, Release for Clarinet, Violin, Cello, Piano, and Computer- Generated and -Controlled Surround Sound (Festival Co-Commission; World Premiere)
Charles Wuorinen, Fenton Songs II (Festival Commission; World Premiere)
2004
Chick Corea, String Quartet No. 1, The Adventures of Hippocrates (Festival Co-Commission; World Premiere)
Marc Neikrug, Piano Quintet (Festival Co-Commission; World Premiere)
2005
Mark O'Connor, String Quartet No. 2, Bluegrass (Festival Co- Commission; World Premiere)
Lalo Schifrin, Letters from Argentina (Festival Co-Commission; New Mexico Premiere)
2006
Leon Kirchner, String Quartet No. 4 (Festival Co-Commission; World Premiere)
David Lang, Work (Festival Co- Commission; New Mexico Premiere)
Magnus Lindberg, Konzertstück for Cello and Piano (Festival Co-Commission; World Premiere)
Marc Neikrug, Three Wine Pieces (Festival Commission; World Premiere)
2007
Marc Neikrug, Ritual for Cello, Piano, and Percussion (Festival Co-Commission; World Premiere)
John Wyre, Quartet: Music for 16 Gongs (Festival Commission; World Premiere)
2008
Huang Ruo, Real Loud: Trio for Cello, Percussion, and Piano (Festival Co-Commission; World Premiere)
Kaija Saariaho, Serenatas (Festival Co-Commission; World Premiere)
Roberto Sierra, Concierto de cámara (Festival Co-Commission; New Mexico Premiere)
Joan Tower, A Gift for Piano, Flute, Clarinet, Bassoon, and Horn (Festival Co-Commission; New Mexico Premiere)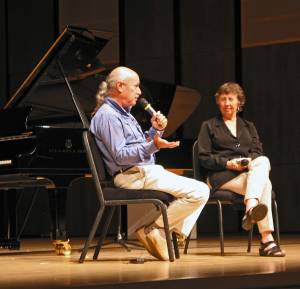 Marc Neikrug & Joan Tower
2009
Gunther Schuller, Quintet for Horn and Strings (Festival Co-Commission; World Premiere)
George Tsontakis, Stimulus Package (Festival Co-Commission; World Premiere)
Mark-Anthony Turnage, Grazioso! (Festival Commission; World Premiere)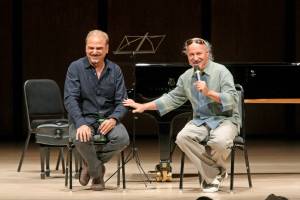 Marc Neikrug & George Tsontakis
2010-2019 Commissions
2010
Brett Dean, Epitaphs for String Quartet (Festival Co-Commission; US Premiere)
Steven Stucky, Piano Quintet (Festival Co-Commission; New Mexico Premiere)
Chinary Ung, AKASA: Formless Spiral (Festival Co-Commission; World Premiere)
Cynthia Lee Wong, Piano Quartet (Festival Co-Commission; World Premiere)
2011
Marc-André Dalbavie, Piano Quartet (Festival Co-Commission; New Mexico Premiere)
Christopher Rouse, String Quartet No. 3 (Festival Co-Commission; New Mexico Premiere)
Sean Shepherd, Quartet for Oboe and Strings (Festival Co-Commission; World Premiere)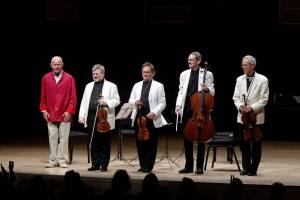 David Del Tredici & Orion String Quartet
2012
David Del Tredici, String Quartet No. 2 (Festival Co-Commission; New Mexico Premiere)
Helen Grime, Snow and Snow for Clarinet, Viola, and Piano (Festival Commission; World Premiere)
Aaron Jay Kernis, Perpetual Chaconne (Festival Co-Commission; New Mexico Premiere)
Magnus Lindberg, Acequia Madre (Festival Commission; World Premiere)
2013
Thierry Lancino, Falling Angels for String Quartet (Festival Commission; World Premiere)
Reena Esmail, String Quartet (Young Composers String Quartet Project; Festival Commission; World Premiere)
David Hertzberg, Méditation boréale for String Quartet (Young Composers String Quartet Project; Festival Commission; World Premiere)
Elizabeth Ogonek, String Quartet (Young Composers String Quartet Project; Festival Commission; World Premiere)
2014
Julian Anderson, String Quartet No. 2, 300 Weihnachtslieder (300 Christmas Songs) (Festival Co-Commission; US Premiere)
Brett Dean, String Quartet No. 2, And Once I Played Ophelia (Festival Co-Commission; US Premiere)
Lowell Liebermann, Four Seasons, Op. 123 (Festival Co-Commission; New Mexico Premiere)
Ryan Chase, Songs the Monsters Sang for String Quartet (Young Composers String Quartet Project; Festival Commission; World Premiere)
Tonia Ko, String Quartet (Young Composers String Quartet Project; Festival Commission; World Premiere)
2015
Alexander Goehr, Seven Impromptus for Two Pianos, Op. 96 (Festival Commission; World Premiere)
Sean Shepherd, String Quartet No. 2 (Festival Commission; World Premiere)
Katherine Balch, With Each Breathing for String Quartet (Young Composers String Quartet Project; Festival Commission; World Premiere)
Max Grafe, The Palace of the Windowed Rocks (Tanguy Responses I) (Young Composers String Quartet Project; Festival Commission; World Premiere)
2016
Gideon Lewensohn, Movements and Gestures for Clarinet and String Quartet (Festival Commission; World Premiere)
Elizabeth Ogonek, Lightenings: A Set of Variations for Four Players (Festival Commission; World Premiere)
Poul Ruders, Occam's Razor (Festival Commission; World Premiere)
Loren Loiacono, Waxing Cerulean for String Quartet (Young Composers String Quartet Project; Festival Commission; World Premiere)
Christopher Stark, Spring Music (Young Composers String Quartet Project; Festival Commission; World Premiere)
2017
Julian Anderson, Sensation for Solo Piano (Festival Co-Commission; US Premiere)
William Bolcom, Sextet (Festival Co- Commission; New Mexico Premiere)
Brett Dean, Rooms of Elsinore (Festival Co-Commission; New Mexico Premiere)
Phil Taylor, of embers and aspen leaves for String Quartet (Young Composers String Quartet Project; Festival Commission; World Premiere)
Freya Waley-Cohen, Snap Dragon for String Quartet (Young Composers String Quartet Project; Festival Commission; World Premiere)

2017 Young Composers Freya Waley-Cohen and Phil Taylor with FLUX Quartet
2018
Alexander Goehr, after "The Waking," Op. 101 (Festival Co-Commission; World Premiere)
Max Grafe, Quintet for Clarinet, Strings, and Piano (Festival Commission; World Premiere)
Magnus Lindberg, Maguey de Tlalcoyote (Festival Commission; World Premiere)
Binna Kim, Stacked Emotions for String Quartet (Young Composers String Quartet Project; Festival Commission; World Premiere)
Michael Seltenreich, Stalactite and Stalagmite for String Quartet (Young Composers String Quartet Project; Festival Commission; World Premiere)
2019
Michael Gandolfi, String Quartet: Dissembling the Essential (Festival Commission; World Premiere)
John Harbison, IF, Monodrama for Soprano and Ensemble (Festival Co- Commission; New Mexico Premiere)
Matthew Ricketts, Ember for String Quartet (Young Composers String Quartet Project; Festival Commission; World Premiere)
Alex Stephenson, Bloom for String Quartet (Young Composers String Quartet Project; Festival Commission; World Premiere)
Commissions since 2020
2021
Brett Dean, Imaginary Ballet—Dances and Interludes for Piano and String Trio (Festival Co-Commission; US Premiere)
Helen Grime, String Quartet No. 2 (Festival Co-Commission; World Premiere)
Michael Seltenreich, Sextet for Piano and Winds (Festival Commission; World Premiere)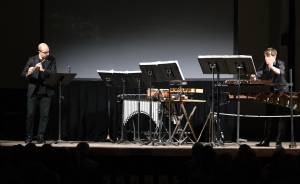 Sean Shepherd's Old Instruments
Sean Shepherd, Old Instruments for Flute and Percussion (Festival Commission; World Premiere)
Augusta Read Thomas, Filigree of the Sun for String Quartet (Festival Commission; World Premiere)
Huw Watkins, Seven Inventions for Marimba and Piano (Festival Co-Commission; US Premiere)
Jack Hughes, Jubilate PM for String Quartet (Young Composers String Quartet Project; Festival Commission; World Premiere)
Lara Poe, Dialetheia for String Quartet (Young Composers String Quartet Project; Festival Commission; World Premiere)
2022
Detlev Glanert, String Quartet No. 3 (Festival Co-Commission; World Premiere)
Shulamit Ran, All Roads Leading for Flute, Viola, and Harp (Festival Commission; World Premiere)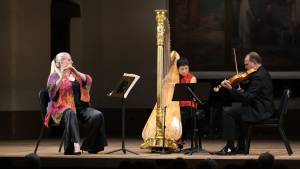 Shulamit Ran's All Roads Leading
Kaija Saariaho, Semafor for Eight Instruments (Festival Co-Commission; New Mexico Premiere)
Marco-Adrián Ramos, Woven clay for the death of Mario Lavista or Quartet II (Young Composers String Quartet Project; Festival Commission; World Premiere)
Benjamin Scheer, The Funambulist's Double for String Quartet (Young Composers String Quartet Project; Festival Commission; World Premiere)
2023
Charlotte Bray, Ungrievable Lives (Festival Co-Commission; US Premiere)
Ryan Chase, Piano Quintet (Festival Commission; World Premiere)
Magnus Lindberg, Quintet for Piano and Winds (Festival Commission; World Premiere)
Christopher Stark, Other Pines for Piano Trio (Festival Commission; World Premiere)
Ryan Lindveit, Small Things (Young Composers String Quartet Project; Festival Commission; World Premiere)
Angela Elizabeth Slater, Where skies aflame (Young Composers String Quartet Project; Festival Commission; World Premiere)